Spokesperson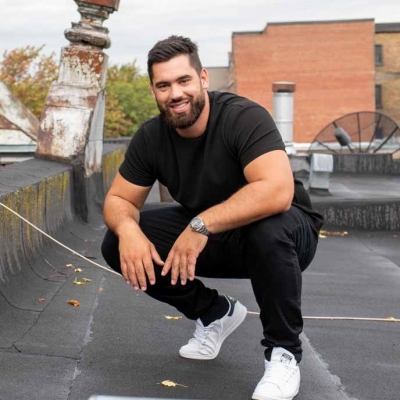 "Being able to rely on adults who can show you how to balance your personal interests and your education is an incredible chance to move through life with confidence. I believe that we all have the power to make a difference. Simple acts of encouragement or sharing one's experience are meaningful gestures that can help young people find motivation. I am delighted to serve as HSD's spokesperson for the 5th consecutive year. Inspiring young people to pursue their dreams and to keep exploring and learning is so important to me."
Laurent is a huge source of inspiration for young people, and we are delighted that he is using his dedication toward them to help spread our campaign and mobilize all of Québec in helping our young people succeed.

Thank you, Laurent, for your commitment to our young people!
About LDT
An exceptional professional football player and holder of a doctoral degree in medicine from McGill University, Laurent is a passionate person who has always persevered to achieve his goals. His rich experience has shown him that by adding up many simple gestures to support young people, it provides motivation for them to stay the course on their educational path throughout their lives. In 2017, his desire to get involved with young people led him to create the LTD Foundation, whose mission is to promote a balance between sports, the arts, and school. Encouraging physical activity and creativity are fundamental factors in young people's development and major assets in their educational success.
Visit Laurent Duvernay-Tardif's website
Put it in your calendar!
Wednesday, February 15 th
1 pm
The flagship event of Hooked on School Days is back for a third edition and is sure to be as wonderful as ever. Laurent Duvernay-Tardif, proud spokesperson of HSD since 2018 and his guests invite all students aged 11 to 14 across Québec to take part in this hybrid event.
Teachers of elementary grades 5 and 6 and secondary 1 and 2, let your students experience this inspiring event. Stay tuned for more information.