Ideas for organizations that do not work directly with youth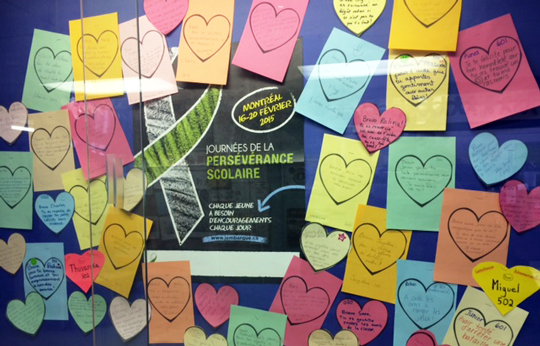 Use the on-line form to register your activity on the HSD calendar.
By sharing your ideas and expertise, you will inspire other organizations to follow suit in taking concrete action to encourage young people.
Encouraging interns
"Show our interns that we care about their school perseverance."
Bombardier, HSD 2020
---
Large-format HSD ads in Lachine
"We will place large digital displays with Hooked on School Days ads at four strategic locations in the borough of Lachine. The goal is to raise public awareness and promote HSD."
Comité scolarisation Lachine, HSD 2014
---
Raising awareness
"The public health director of Montréal's health and social services agency is promoting Hooked on School Days on the agency's website and social media outlets, reminding people that dropping out is a major determinant at the root of social health inequities."
Public health department of Montréal's health and social services agency, HSD 2013
---
Board meeting in HSD colours
"The Concertation Montréal board of directors will meet on February 18 to hand out green-and-white ribbons to our board members and encourage them to take part in HSD activities."
Concertation Montréal, JPS 2016
---
Conférences affaires + persévérance
"Meeting with Ubisoft to discuss their CODEX project, an initiative we believe in. This is the perfect time to get together over a meal to discuss and share ideas about school perseverance with business people in the east end of Montreal."
Chambre de commerce de l'Est de Montréal, HSD 2016
"Speech by Jean-François Roberge, Minister of Education and Higher Education, as part of Hooked on School Days."
Chamber of Commerce of Metropolitan Montréal, HSD 2020
"2016 school perseverance meeting for the business sector, with Montreal school perseverance experts. A unique chance to get involved in the fight against the dropout problem, understand the priorities and issues of this broad societal issue, and learn about how to help our youth do better in school. The 2016 panellists are: Daphné Mailloux-Rousseau, executive director of L'Ancre des jeunes; Luc Mantha, director of the Lachine Pathways to Education program; and Gabrielle-Anne Thibault, lead councillor for mentors at Academos."
Chambre de commerce du sud-Ouest de Montréal, HSD 2016
"The Jeune Chambre de commerce de Montréal will hold a happy hour (6 to 8) to raise awareness among young members and professionals of the cause of school perseverance."
Jeune Chambre de commerce de Montréal, HSD 2014
"Presented as part of Hooked on School Days 2016, the purpose of this seminar is to highlight the importance of the social aspects of business. Participants are invited to discuss the topic with Mr. Vézina. Participants include Janie Thélémaque, treasurer of the Fonds 1804; and Grégory Excellent, president of Capital Plus. The event is presented in partnership with Filaction and Groupe 3737."
Fonds 1804 pour la persévérance scolaire, HSD 2016
---
Wearing the ribbon
"Staff will wear the ribbon and HSD posters will be presented to the public."
Groupe RHR, HSD 2016
"Like every year, all employees in our Beaumont St. store will celebrate the week of school perseverance by wearing the ribbon."
Brault & Bouthillier, HSD 2014
---
Promote Hooked on School Days
''Employees in Montreal's public services department will wear the HSD ribbon. The poster will be displayed in various centres around the borough.''
Ville de Montréal, borough of Verdun, HSD 2013
---
Recognition cocktail
"In partnership with the BDC, Pathways to Education is holding a cocktail party to recognize and thank donors and partners for helping to create a better future for youth. On the menu: a meeting with graduates and distribution of the HSD ribbon. An excellent occasion to assemble leaders of the cause and the business community."
Pathways to Education, HSD 2016
---
Note about HSD in a newsletter
'' Newsletter sent to all partners of Centraide of Greater Montreal (donors, organizations, volunteers, partners, etc.). ''
Centraide, HSD 2013