Activity ideas for young adults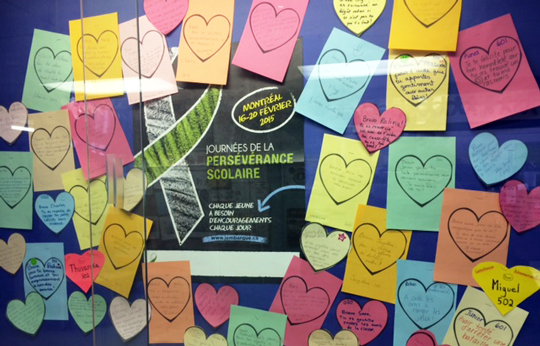 REGISTER YOUR ACTIVITY ON THE HSD CALENDAR!
Use the on-line form to register your activity on the HSD calendar. By sharing your ideas and expertise, you will inspire other organizations to follow suit in taking concrete action to encourage young people
Inspiring talks
"Every year, we invite former students to come to the centre to give a talk as a way of encouraging our current students."
Centre Pauline Julien, HSD 2020
"Two talks will be given in the school auditorium. The first will be by a teacher from the school who suffered a serious road accident that left him paralyzed. The second will be about the importance of learning French. The talk will be given by a former French-as-a-second-language student."
Centre d'éducation des adultes d'Outremont, HDS 2018
"Visit by a speaker who will talk about their ADHD."
Centre Tétreaultville et centre Hochelaga-Maisonneuve, HSD 2018
"Accounts by graduates who have shown perseverance throughout their schooling and who now have good jobs or have completed a post-secondary degree."
Centre Gédéon-Ouimet, HSD 2016
---
Exchange of cards of encouragement between elementary school students and masters' and doctoral students
"As part of Hooked on School Days, students in the class of Ms. Alexandra at École St-Isaac-Jogues exchanged notes of encouragement with masters' and doctoral students of Thèsez-Vous. Regardless of the students' age, a pat on the back does some good."
Thèsez-vous, JPS 2020
---
Notes of encouragement
"Teachers will be asked to post notes of encouragement to students on the bulletin board."
Institut de tourisme et d'hôtellerie du Québec, JPS 2019
---
Verdun day for adult learners
"The purpose of the activity is to acknowledge the perseverance of adult learners by holding a ceremony to award them with a certificate of recognition on Thursday, February 20 in the council chamber of Verdun Borough Hall. Recipients will have an opportunity to talk about their journey and the pitfalls that might have occurred. The activity will be recorded."
Centre de Formation professionnel VERDUN, HSD 2020
---
Get-together around a snack/meal
"Students will be given a snack in recognition of their perseverance. The activity will be a chance for students and staff to get together and chat."
Centre de formation Antoine-De-Saint-Exupéry, HSD 2020
"During HSD, have students come together for a meal to celebrate perseverance."
Jeanne-Sauvé adult education centre, HSD 2012
---
CEGEP - Introduction of theme week to TES students
"As part of their training, students are introduced to the use of thematic weeks in their professional practices."
CEGEP Marie-Victorin / Techniques d'éducation spécialisée, HSD 2016
---
Handing out ribbons – university association
"We hand out ribbons to education students at our general assembly."
Association générale des étudiantes et étudiants en éducation de l'Université de Montréal, HSD 2014
---
Messages on social media
"We will post one or two messages per day on our social media to highlight the perseverance of young people in our projects and the involvement of student volunteers in the SEUR project."
Projet SEUR - Université de Montréal, HSD 2019
---
Intercom messages
"Every day, members of the administration will convey messages of recognition, motivation, and encouragement on the intercom."
Centre Yves-Thériault, HDS 2020
---
Buddy for a day
"An intercultural exchange using a buddy system based on a common interest, the curriculum. The activity will highlight the perseverance of students who have set out to study in another language or country. A regular student will spend the day with a French-immersion student (courses, lunch, activities with friends, etc.)"
Cégep du Vieux-Montréal, HSD 2014
---
Wall of perseverance
''Have every class make a poster on the theme of "tricks for persevering. Hang the posters in the cafeteria.''
Centre Saint-Paul, HSD 2012
---
School perseverance workshop
Workshop offered by an organization working in school perseverance, "La motivation et la persévérance scolaire, si on s'en parlait. [French only]" Where does my motivation come from? What hinders my motivation? What nourishes it? How do I persevere and stay motivated?
Centre William-Hingston and Centre Gabrielle-Roy, HSD 2012