Activity ideas for 13–17 year-olds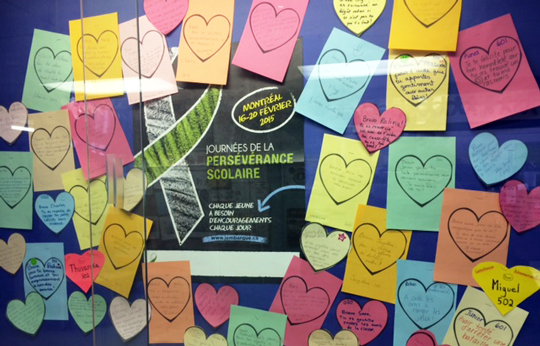 REGISTER YOUR ACTIVITY ON THE HSD CALENDAR!
Use the on-line form to register your activity on the HSD calendar. By sharing your ideas and expertise, you will inspire other organizations to follow suit in taking concrete action to encourage young people
Notes of encouragement read over the intercom
"Every morning, a note of encouragement written by different people (principals, teachers, student committee, guidance counsellor, CJE representative, etc.) will be read over the school intercom in order to support our students throughout Hooked on School Days."
École secondaire Jean-Grou, HSD 2016
---
Morning guards of honour and encouragement
"Students are greeted by a guard of honour formed of teachers and staff."
École secondaire Louis-Riel, HSD 2020
"On Monday morning, the students will be greeted by a guard of honour made up of teachers and non-teaching staff to show our appreciation for the students. Support and encourage effort, perseverance, and motivation."
Collège Jean-Eudes, HSD 2019
"All school staff is invited to greet students at the school entrance with words of encouragement to promote perseverance. To make the occasion more festive, they will be holding signs with slogans, and a few surprises will await hardworking students."
École secondaire Marie-Anne, HSD 2014
---
Raise awareness about depression and mental health
"Presenters from Jeunes en Tete visiting all Sec 3 English classes to raise awareness about depression and mental health and how it can impact a student's ability to persevere and succeed in school. "
Laurier Macdonald High School, HSD 2020
---
What is perseverance?
"During homeroom, students will discuss 'what is perseverance'? Then in the afternoon, they will watch a movie about a real life story perseverance. Before the movie, there will be a display of messages sent by parents for their students."
John Paul I High School, HSD 2020
---
Orientation, talents, and career choices
"Offer self-discovery workshops that use key words and a game on knowing oneself. This gives students a chance to validate their strengths and talents at school and, eventually, in their choice of career."
École secondaire Saint-Laurent, Cardinal building
"Some 30 Secondary III students are paired with artists and cultural workers such as choreographers, journalists, photographers, designers, comic book artists, and musicians. Each mentor shows the student their profession, and the students gain motivation and inspiration from the different models of learning and from the one-on-one relationship."
Culture pour tous, HSD 2013
"Professionals will speak about their educational experiences to students at Honoré-Mercier high school. The goals include providing positive role models for student progress and teaching them about various professions."
Comité jeunesse Ville-Émard / Côte Saint-Paul, HSD 2014
---
Capes for perseverance superheroes
"During the morning and lunch breaks on Monday and Tuesday, there will be a booth where youth can write on the capes of their dreams. These capes will then be hung up in the school."
Perspectives Jeunesse, HSD 2016
---
Inspiring talks
"A former student will come and talk about their time in school and experiences with mental health problems."
École primaire et secondaire Marc-Laflamme/Le Prélude, HSD 2018
"Talk on staying in school by members of the Montréal Alouettes»
École secondaire Antoine-de-Saint-Exupéry, HSD 2018
"Revenir de loin: Hip-hop artist Koriass explores key moments of his personal and professional journey, talking about his childhood, his career and creative work, the challenges he has encountered, and his aspirations. Koriass says that regardless of your background or problems, nothing is impossible if you hold onto your dreams."
École secondaire Paul-Gérin-Lajoie-d'Outremont, HSD 2018
"A former student and current CEGEP student talks to secondary 5 students about the end of high school, the beginning of the next academic chapter, and the challenges of this change."
École secondaire Mont-Royal, HSD 2013
---
Mural of goals
"On the wall, each student can write a goal they would like to reach over the next five years, something that will motivate them to persevere. On the same wall, teachers can also write thoughts or words of encouragement for their students."
Carrefour jeunesse-emploi de Marquette, HSD 2014
---
Model volunteers
The university student volunteers who work with youth at the organization Le Phare de l'espoir will speak about the patience and perseverance it took to get to university. There are seven volunteers in different programs; each has had their own experiences and found their own way to overcome obstacles."
Le Phare de l'Espoir, HSD 2014
---
Mail-out of personalized messages of encouragement
''About 300 personalized messages of encouragement mailed to all students and parents taking part in the Passeport pour ma réussite Québec program in Verdun and Shawinigan.''
Passeport pour ma réussite Québec, HSD 2013
''Staff members will write letters of encouragement to young people who attended Revdec and who have returned to school. The students will receive the letters at their school to show that we continue to follow their progress and their efforts. Letters will also be given to young people currently attending the organization.''
Revdec ‒ ROCQLD, HSD 2013
---
Photo exhibition
''Students identified areas of their life where they needed a lot of perseverance. We took photos of them in these areas, dressed up in chic clothing. The photos will be displayed on Monday, February 11, where both students and staff will see them for the first time.''
École secondaire Joseph-Charbonneau, HSD 2013
---
High school as a youth or as an adult?
''Raise awareness among students seeking information about high school for adults. Demystify the supposed ease and rapidity of progress in high school for adults. Help students compare their current learning environment with high school for adults. Take action to motivate high school students.''
École secondaire Lucien-Pagé, HSD 2013
---
Graffiti
''Hold a contest, with winning students creating graffiti that illustrate school perseverance.''
École secondaire de la Pointe-aux-Trembles, HSD 2012
---
School perseverance booth
''Set up a booth at lunch hour to inform students about the resources and means the school has put in place during the year to promote school perseverance.''
Intégration Jeunesse, HSD 2012