Activity ideas for preschoolers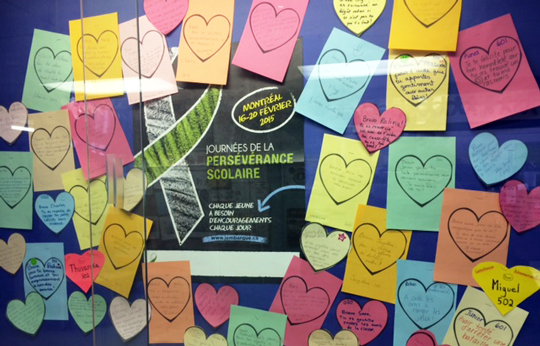 Use the on-line form to register your activity on the HSD calendar.
By sharing your ideas and expertise, you will inspire other organizations to follow suit in taking concrete action to encourage young people.
Les Yogistoires
"Les Yogistoires is a story hour that moves! This activity for parents and children 0–5 years involves stories, songs, and yoga. The benefits also spill over to the home, because reading is an important determinant of school perseverance."
Table de concertation en petite enfance de Rosemont, HSD 2015
---
Parent/child reading workshop
"Families are invited to the community centre to take part in a parent/child reading workshop. The activity aims to raise awareness among families of the importance of reading stories to children and to equip them to do so. Participating children receive a free book."
Concertation Saint-Léonard, HSD 2015
---
Preschool story hour: "When I grow up…"
"A career-themed story hour for 0–5-year-olds."
Bibliothèque St-Henri, HSD 2014
---
Baby awakens and learns
"Baby awakens and learns' is a workshop where parents can talk to each other about their infants' development and take part in activities to stimulate babies' language skills, motor development, and emerging literacy."
La Maison des Familles de Mercier-Est, HSD 2014
---
Encouraging kids to read
"Take a picture of each child holding their favourite book. Develop, enlarge and display these portraits."
Comité ÉLÉ Hochelaga-Maisonneuve
---
What I want to be when I grow up
''Young children project themselves into adulthood. Activity can be done through drawing, crafts, discussion, etc.''
École Sainte-Geneviève Ouest, HSD 2012